Dining in the Caribbean: Your Questions Answered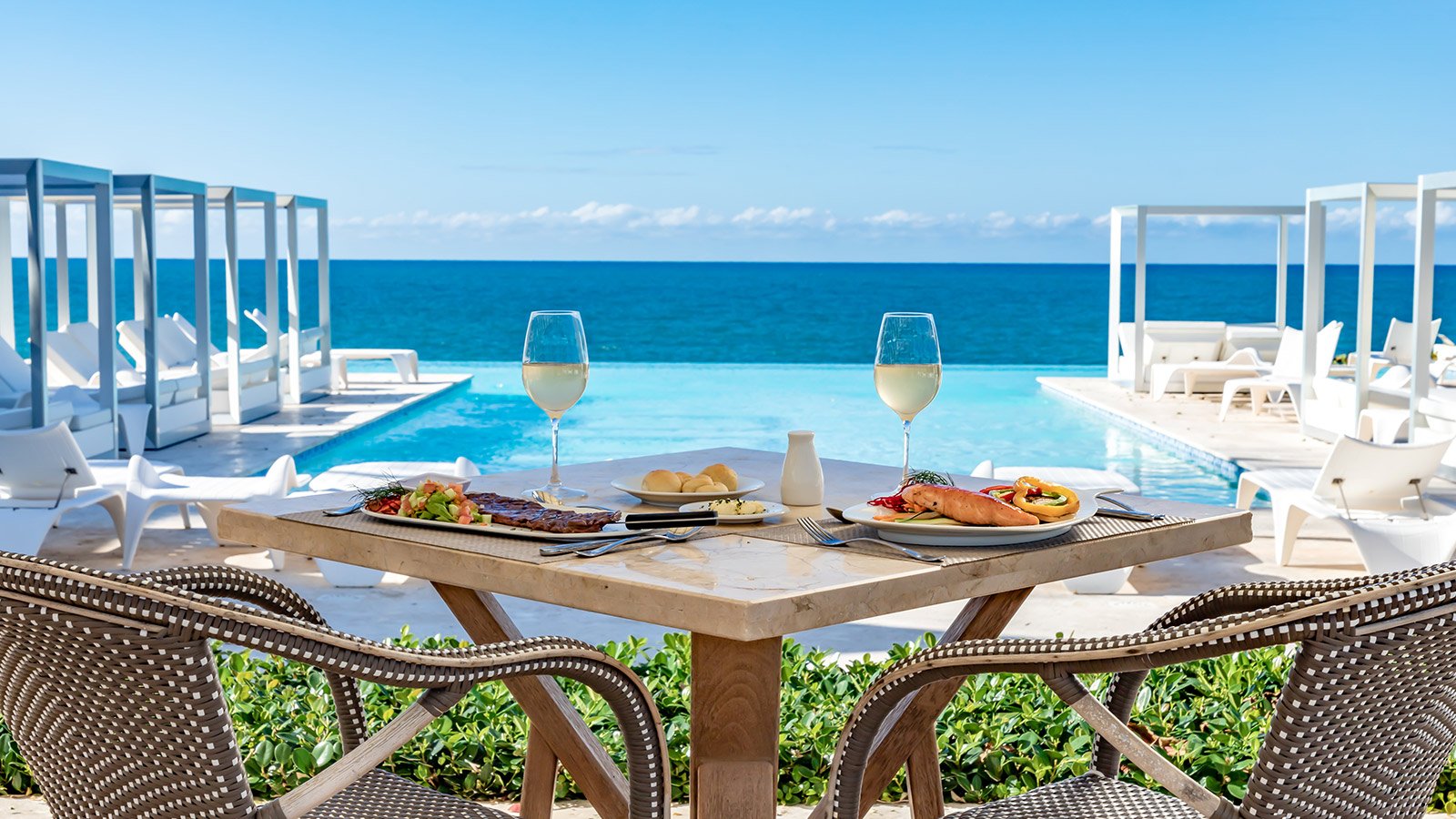 Travel never stops being exciting.
When travelers fantasize about the Caribbean, the unforgettable aromas and flavors of its extraordinary cuisine are undoubtedly among the first visions conjured. The region is a cultural melting pot, with such rich diversity reflected within the distinct and eclectic fare served throughout its islands. Prepared with a diverse array of spices and cooking styles, such culinary delights create special feasts and lasting memories for all travelers.
The Caribbean is renowned throughout the world as a serious food destination—and the region's dishes embody a major expression of its cultural significance.
Here's what you need to know about dining in the Caribbean.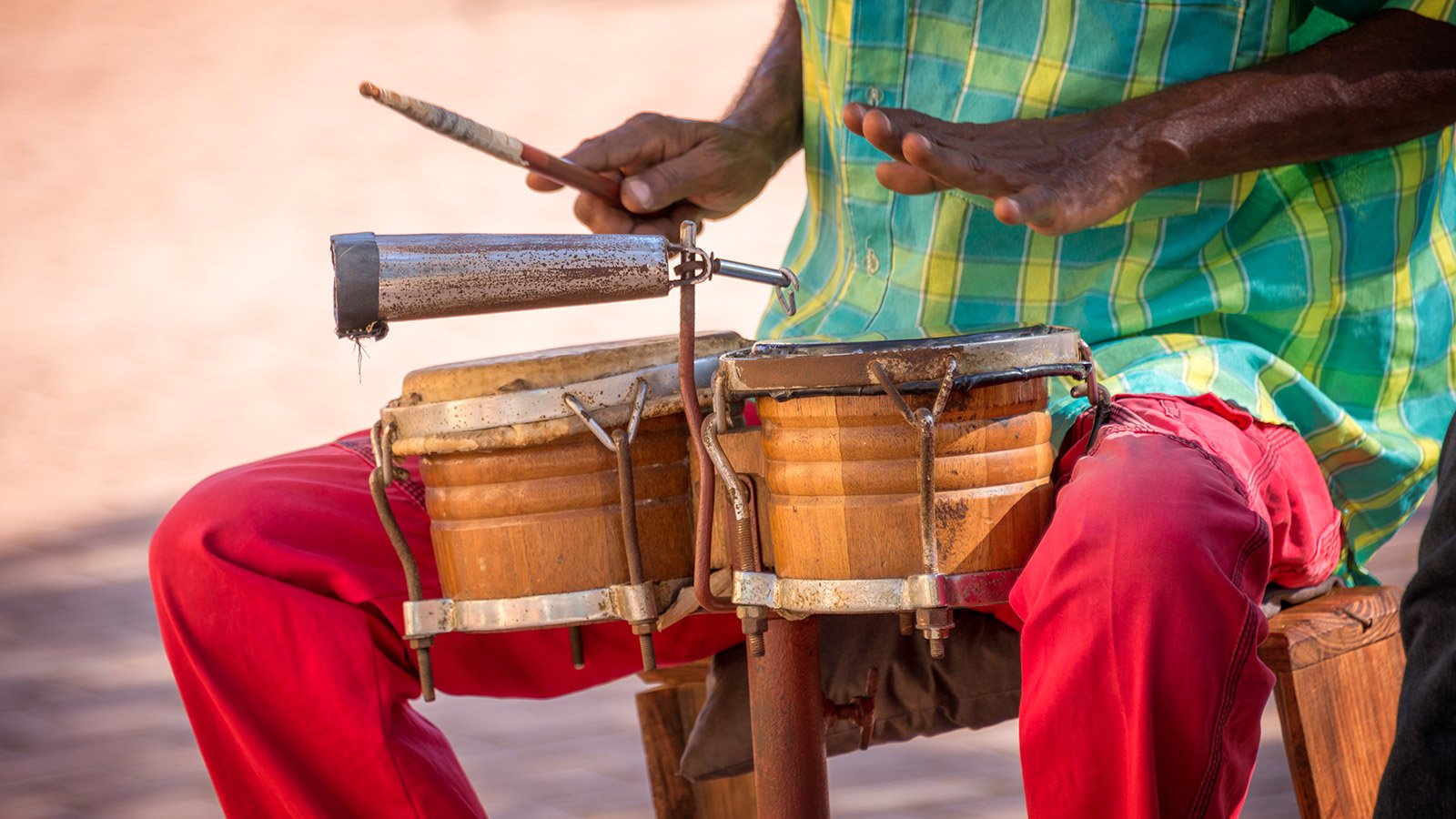 Culture & History of Caribbean Cuisine
The Caribbean boasts an incredibly rich and diverse culinary history, incorporating influences from numerous cultures spanning centuries—resulting in a wholly regional flavor all its own.
Its cuisine consists of a unique fusion of African, East Indian, Arabic, Chinese and Indigenous spices and ingredients, as well as European from its colonial past—including Portuguese, Dutch, Danish, British, French, and Swedish.
The first inhabitants of the Caribbean were the Arawak, Carib, and Taino peoples, whose diets chiefly consisted of native fruits and vegetables such as cassava, guavas, papaw and yams, along with various meats and fish. Each of their distinct cultures incorporated new spices, ingredients, and cooking styles.
The Taino prepared meat and fish in large clay pots, perfect for soups and stews. The Arawaks slowly cooked their meat on wooden strips, infusing it with deep, smokey flavors. These were known as barbacoa, from which barbeque derives. The Carib incorporated more spices, along with lemon and lime, in meat and fish recipes.
East Indian culture introduced the combination producing curry, while the Chinese added mustard and rice—now staples of many Caribbean dishes. Africans introduced okra, callaloo, fish cakes, saltfish, ackee, mangos, and more. Their contributions are now standards, including cassava, sweet potatoes, yams, plantains, bananas, and cornmeal. Spanish settlers brought oranges, limes, ginger, plantains, figs, date palms, sugar cane, grapes, tamarinds, breadfruit, and coconuts. The Americas also contributed, with their addition of beans, corn, squash, potatoes, tomatoes, and chili pepper.
This culinary melting pot absorbed these distinct cultures and traditions into a unique creation.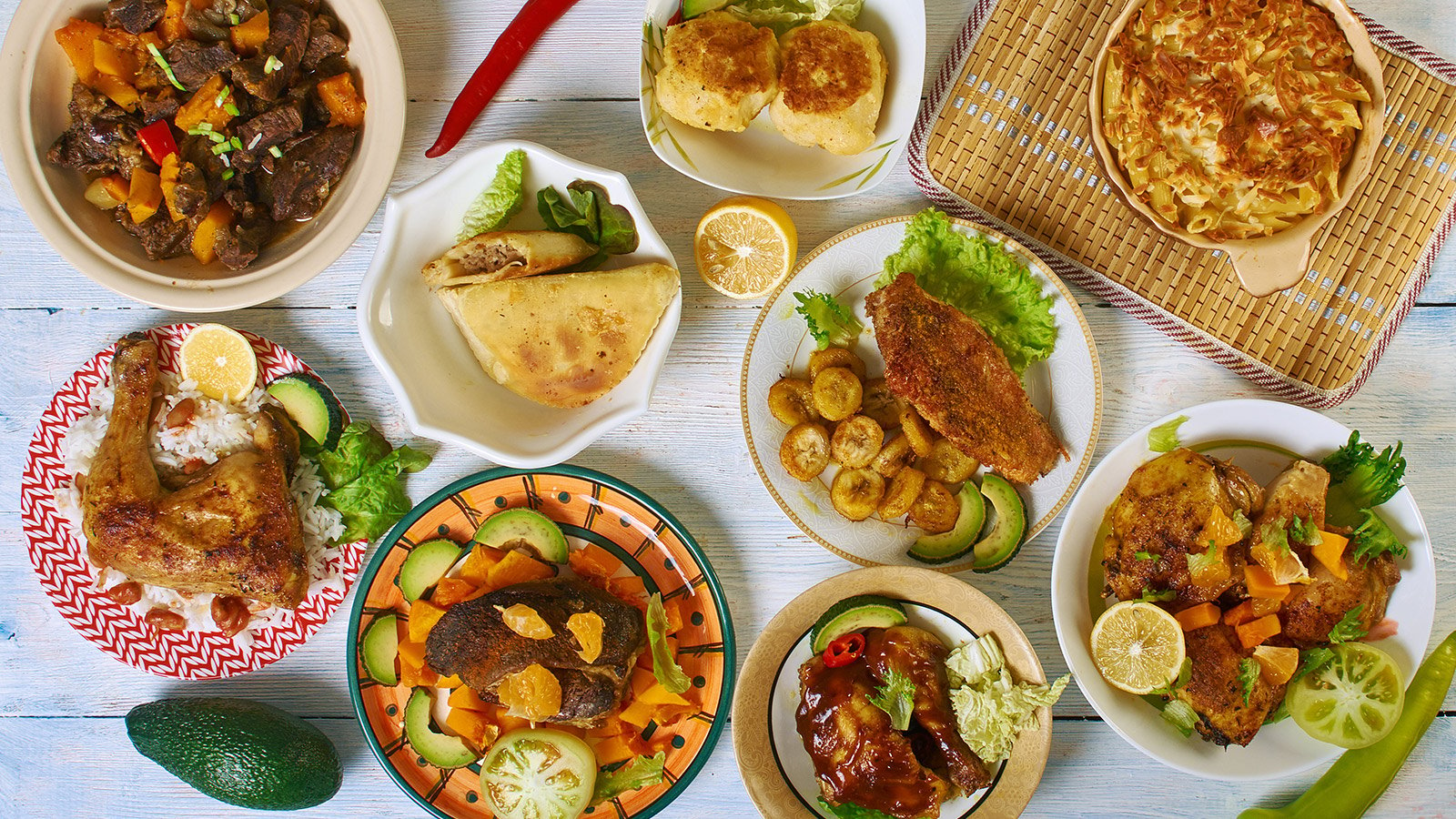 What to Expect From Caribbean Flavors
Caribbean flavor is bold, spicy, and fresh. Some of its most quintessential ingredients include rice, plantains, beans, cassava, cilantro (coriander), bell peppers, chickpeas, tomatoes, sweet potatoes, and coconut.
Caribbean meats are typically prepared on the barbecue or grill, and rarely fried or oily. Chicken and steak are often dry-rubbed or marinated with Mojo or other hot spices in before cooking, and generally don't require oil or butter.
Fish is a favorite, with plenty of regional options served across the islands. Seafood is generally boiled, steamed, or grilled with butter and garlic. Lobster, crayfish, shrimp, and clams are popular meals.
Beans and legumes including kidney and lima beans, chickpeas, lentils, and black-eyed peas are familiar ingredients in nearly every variation of soups and rice dishes on Caribbean menus.
A common seasoning for many regional dishes is Mojo, an oil-based sauce or marinade typically including garlic, onions, scotch bonnet peppers, celery, green onions, and herbs such as cilantro, marjoram, rosemary, tarragon, and thyme. Coconut milk is also popular, made from mixing its pulp water. Its creamy texture adds body and flavor to many creations.
The unique combinations of these ingredients produce vibrant and flavorful feasts savored throughout the world.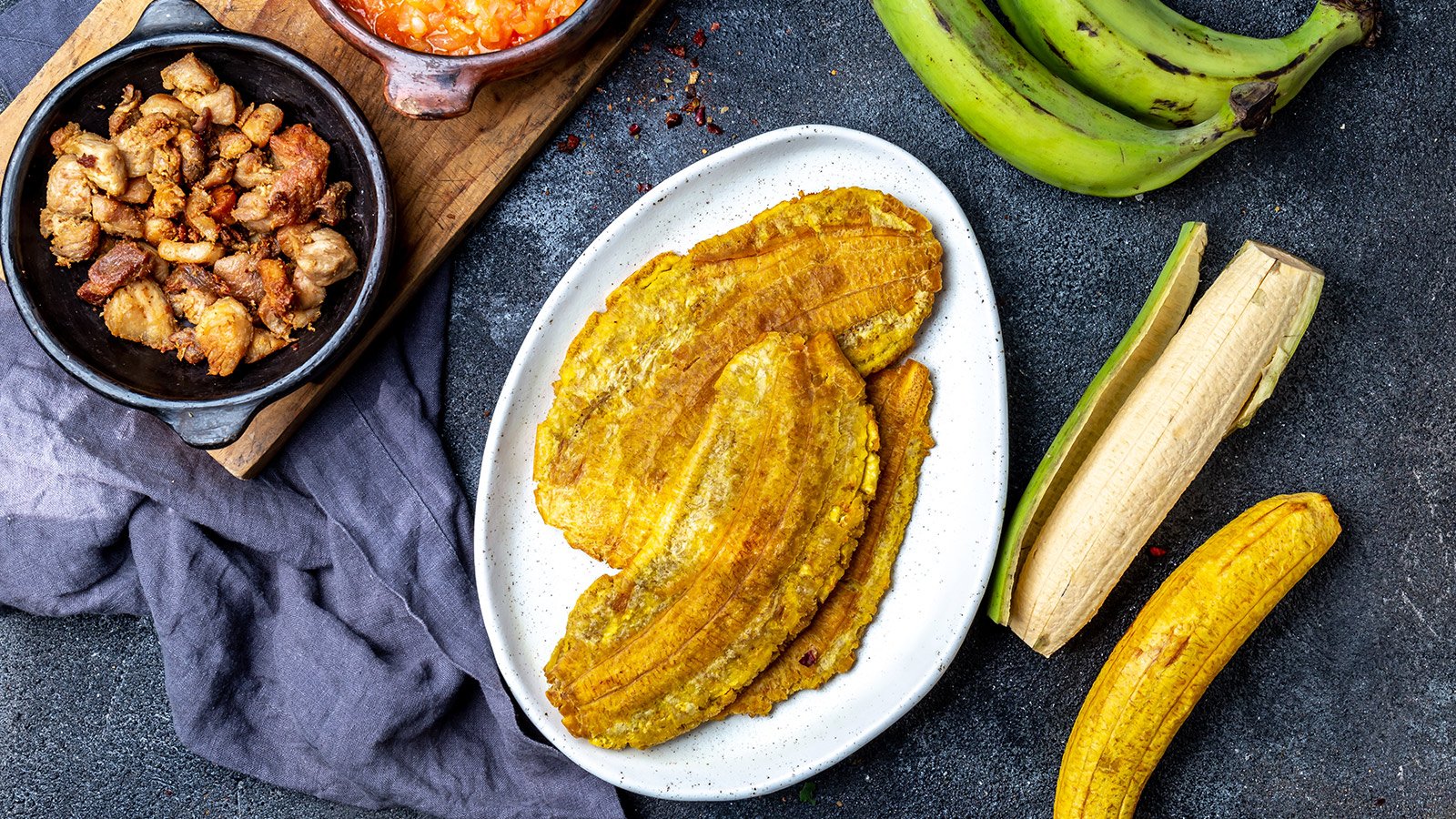 Traditional Caribbean Dishes to Enjoy
The extensive diversity of Caribbean cuisine provides endless options to satisfy nearly any palette or preference. Here are several popular traditional dishes from across the region:
Ackee features salty fish, onions, and hot peppers.
Asopao, a famous Puerto Rican soup, consists of capers, olives, peas, ham, bell peppers, onions, tomatoes, rice, and chicken.
Boniato is a partially sweet potato grown in the Caribbean, and a favorite in Cuba.
Curry is a spicy or very seasoned sauce originating from India extremely popular for chicken dishes in Tobago, Trinidad, Jamaica, and Yuca.
Coucou & Flying Fish, the national dish of Barbados, is steamed and cooked with onions, lime juice, spices, vegetables, and served on polenta-like cornmeal—or fried and accompanied with spicy sauce.
Crab & Callaloo consists of callaloo (spinach-like greens) typically blended with coconut milk, spices, chilies, and sometimes joined by okra, red meat, and topped with crab.
Conch Fritters are prepared with shredded meat from conch (large-shelled sea mollusks) and fashioned into crab cake-like patties battered with onion, bell pepper, spices, chili, or celery, and then deep fried.
Mofongo, featuring mashed fried green plantains flavored with garlic and pork rinds, is traditionally created with a wooden mortar and pestle known as a pilón.
Jerk Chicken is a famous Jamaican dish prepared by dry rubbing or marinating chicken with a mixture of spices that balance hot, sweet, and spicy flavors.
Goat Water consists of stewed goat meat spiked with spices, vegetables, onion, tomato, and sometimes green papaya and breadfruit, and served with rice or bread.
Creole Bread is baked into soft-crust loaves shaped as baguettes and cooked in a wood-fired oven to give it a notably smoky flavor.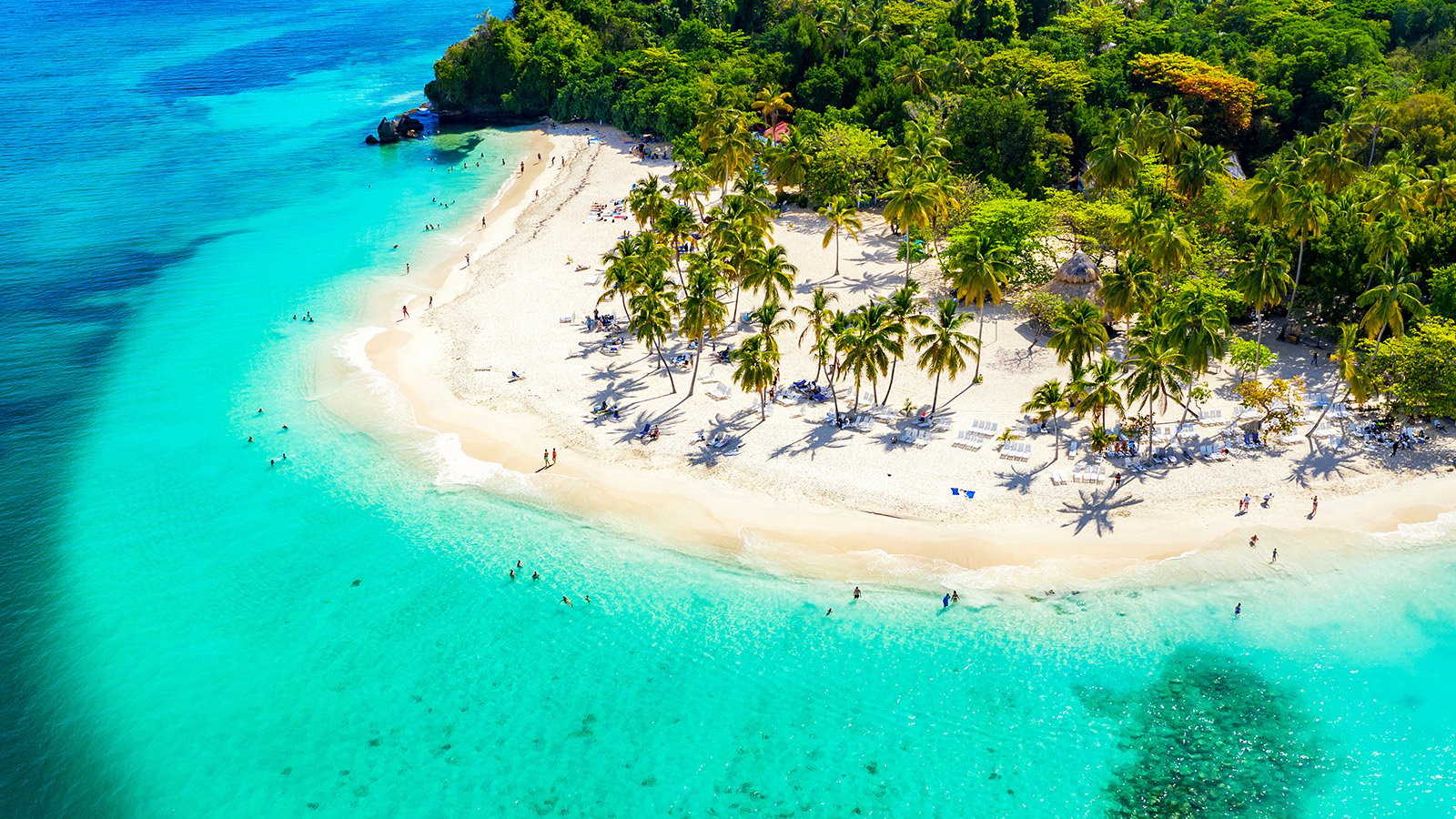 Dining on Popular Caribbean Islands
The Caribbean Islands' unique and enticing flavors, bright island ambiance, and wonderful tropical environments all coalesce into a unique and unforgettable dining experience.
So whether you're hopping from island to island in search of the best food, or just looking for some good options nearby, you're never too far from a fantastic Caribbean meal!
Here are some of the best dining options among some of the most popular Caribbean Islands:
Antigua
Antigua features a unique fusion of Spanish, British, and West African inspirations Known for its fresh seafood and fantastic rum selection, there are plenty of outstanding food and beverage options for visitors to enjoy.
The relaxed beachside ambiance of Beach Limerz is the perfect accompaniment to its incredible food and live music beside the historic Fort James—and all for an affordable price. And if you're a fan of live performances, South Point Restaurant & Lounge in English Harbour is the spot, with stunning sunset views along with dinner and dancing on the patio.
Miracle's South Coast Restaurant, a local favorite in the Jolly Harbour region, is known for its curry goat, lobster roti, jerk chicken, and coconut shrimp. Papa Zouk promises some great fish, great rum, and the largest selection of Zouk dance music in the Caribbean.
For those looking for more upscale dining, The Cove at Blue Waters Resort and Spa is perfect for romantic dinners or special occasions, with oceanfront views, candlelit tables, and a wide collection of high-quality, French-Caribbean cuisine.
Aruba
Aruba is home to a wide variety of bars and restaurants to satisfy any taste, occasion, or price point—whether you're looking for somewhere low key or a bit more lively.
For a great atmosphere, affordable food, and large portions, Barney's Bar & Restaurant is a must-visit. With a nightly all-you-can-eat menu and raving customer reviews, it's a great place to unwind with your favorite drink, family, and friends!
Papiamento, named after the native language of the island, is an authentic Aruban villa built in 1886 and transformed into one of its most famous restaurants. Adorned with Dutch antiques and hand-carved furniture, it is an ideal location for a romantic meal. Guests can request to sit outside by the pool, surrounded by a vibrant tropical garden, fairy lights, candles, and the stars. As one of the oldest family-run restaurants in Aruba, Papiamento is recognized for its consistently high quality of fabulous food and friendly service.
For a unique, one-of-a-kind dining experience, look no further than Senses Fine Dining. This new, exclusive restaurant at the world-class, award-winning Bucuti & Tara Beach Resort is designed to entice and delight all your senses. From the moment you walk through the doors, everything you see, smell, taste, hear, and touch exudes luxury.
Barbados
Barbados is known for its authentic Bajan cooking and multiple fine-dining options. For a more laid-back dining experience The Mojo Bar & The Chopping Board Kitchen is the place to go. Mojo provides day-time and late-night fun, great food and lively atmosphere for tourists and locals alike—with tasty pub food, live music, great service, and an excellent bar.
If you're seeking a more upscale dining experience, Champers on the south coast of Barbados is your jam. This trendy restaurant serves a wide variety of Cajun, American, Asian and Caribbean cuisine—with different menus for lunch and dinner—and is well known for its breathtaking seaside views and excellent service.
When you're all done, head to Mount Gay to tour the iconic distillery producing the region's favorite spirit since 1703.
U.S. Virgin Islands
The U.S. Virgin Islands serves a veritable smorgasbord of delectable food and beverages to satisfy any taste or budget.
Side Street Pub on St. Thomas is a popular, family-owned restaurant renowned for its fish tacos. It also offers free Wi-Fi. Prime at Paradise Point is a more upscale, American-style steakhouse with phenomenal views of the water, fresh Caribbean seafood, and the best surf and turf.
You can find some amazing restaurants in St. Croix as well, such as Rumrunners. This popular waterfront restaurant and bar at Hotel Caravelle dishes extraordinary seafood and unforgettable drinks. Zion Modern Kitchen features a unique aesthetic and menu, primarily incorporating local ingredients and sustainable products, as well as making custom cocktail blends.
There are plenty of great eateries throughout St. John—including Rhumb Lines in Coral Bay, with a South Pacific-inspired menu and vibe. The Pizzabar in Paradise is a fantastic place to grab a slice, but be sure to get there early or call ahead, because this popular spot fills up quickly. Morgan's Mango is an elegant restaurant with a distinctly tropical feel and ultra-fresh seafood.
Turks & Caicos
This archipelago of islands is alive with the sound of music, from dawn till dusk. A lively bar and restaurant scene, visitors can enjoy cocktails here along with a wide selection of seafood.
Hemingway's Restaurant, an all-day beachside eatery, is part of The Sands hotel. Guests can grab a seat at the outdoor terrace on Grace Bay beach and refuel with delectable classics including fish sandwiches, steak salads, and burgers.
Located in the heart of Grace Bay within walking distance from most resorts, Coco Bistro serves fresh regional cuisine in a beautiful tropical environment for a culinary experience you won't soon forget.
Jamaica
Visitors to Jamaica will be treated to an array of culinary delights famous across the Caribbean, including fresh fish, lobster, shrimp, and other seafood prepared with island spices, rice and peas, plantains, and breadfruit.
The Houseboat Grill in Montego Bay is exactly that—a houseboat—providing diners the chance to feast at sea! The menu boasts seafood dishes such as New Zealand mussels, red snapper filets, pepper shrimp, as well as Jamaican-spiced pork medallions, fondue, and expertly seasoned steaks.
For those seeking a more upscale dining experience, the cliffside Rockhouse Negril, part of its namesake hotel, boasts a fantastic menu and unforgettable views. Ideal for romantic outings and special occasions, this is the place for fine dining and phenomenal Jamaican cuisine.
Work With InteleTravel to Make Your Next Culinary Quest a Reality
Without a doubt, the Caribbean serves some of the best and most diverse culinary creations in the world—the perfect accompaniment to a dream vacation.
InteleTravel Advisors are Caribbean experts who will help arrange the perfect itinerary and conduct all the necessary legwork to ensure you achieve the best Caribbean adventure—and all at no cost to you!